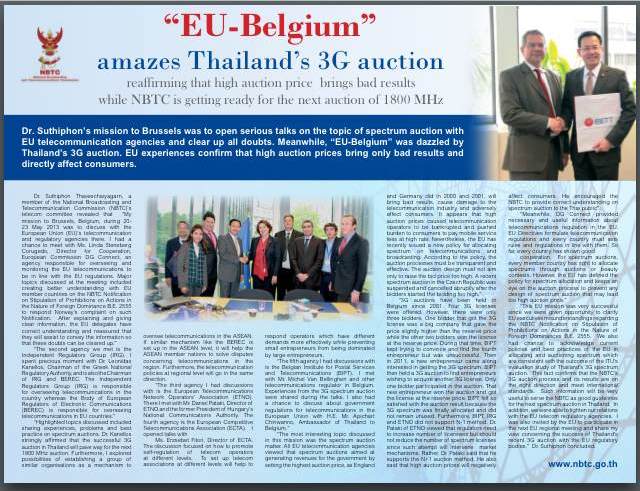 "EU-Belgium" amazed Thailand's 3G auction reaffirming that high auction price  brings bad results while NBTC is getting ready for the next auction of 1800 MHz   

Dr. Suthiphon's mission to Brussels was to open serious talks on the topic of spectrum auction with EU telecommunication agencies and clear up all doubts. Meanwhile, "EU-Belgium" was dazzled by Thailand's 3G auction. EU experiences confirm that high auction prices bring only bad results and directly affect consumers.

Dr. Suthiphon Thaveechaiyagarn, a member of the National Broadcasting and Telecommunication Commission (NBTC)'s telecom committee revealed that

"My mission to Brussels, Belgium, during 20-23 May 2013 was to discuss with the European Union (EU)'s telecommunication and regulatory agencies there. I had a chance to meet with Ms. Linda Steneberg Corugedo, Director for Cooperation, European Commission DG Connect, an agency responsible for overseeing and monitoring the EU telecommunications to be in line with the EU regulations. Major topics discussed at the meeting included creating better understanding with EU member countries on the NBTC Notification on Stipulation of Prohibitions on Actions in the Nature of Foreign Dominance B.E. 2555 to respond Norway's complaint on such Notification.  After explaining and giving clear information, the EU delegates have correct understanding and reassured that they will assist to convey the information so that these doubts can be cleared up."

"The second agency we met is the Independent Regulators Group (IRG). I spent precious moment with Dr. Leonidas Kanellos, Chairman of the Greek National Regulatory Authority, and is also the Chairman of IRG and BEREC. The Independent Regulators Group (IRG) is responsible for overseeing telecommunications in the country whereas the Body of European Regulators of Electronic Communications (BEREC) is responsible for overseeing telecommunications in EU countries."

"Highlighted topics discussed included sharing experiences, problems and best practice on spectrum auctions. Dr. Kanellos strongly affirmed that the successful 3G auction in Thailand will pave way for the next 1800 MHz auction. Furthermore, I explored possibilities of establishing a group of similar organisations as a mechanism to oversee telecommunications in the ASEAN. If similar mechanism like the BEREC is set up in the ASEAN level, it will help the ASEAN member nations to solve disputes concerning telecommunications in the region.  Furthermore, the telecommunication policies at regional level will go in the same direction.

"The third agency I had discussions with is the European Telecommunications Network Operators' Association (ETNO). There I met with Mr. Daniel Pataki, Director of ETNO and the former President of Hungary's National Communications Authority. The fourth agency is the European Competitive Telecommunications Association (ECTA).   I opened talks with Ms. Erzsebet Fitori, Director of ECTA. The discussion focused on how to promote self-regulation of telecom operators at different levels.  To set up telecom associations at different levels will help to respond operators which have different demands more effectively while preventing small entrepreneurs from being dominated by large entrepreneurs.

"The fifth agency I had discussions with is the Belgian Institute for Postal Services and Telecommunications (BIPT). I met with Mr. Michel Van Bellinghen and other telecommunications regulator in Belgium. Experiences from the 3G spectrum auction were shared during the talks. I also had a chance to discuss about government regulations for telecommunications in the European Union with H.E. Mr. Apichart Chinwanno, Ambassador of Thailand to Belgium."

"The most interesting topic discussed in this mission was the spectrum auction matter. All EU telecommunication agencies viewed that spectrum auctions aimed at generating revenues for the government by setting the highest auction price, as England and Germany did in 2000 and 2001, will bring bad results, cause damage to the telecommunication industry and adversely affect consumers. It appears that high auction prices caused telecommunication operators to be bankrupted and pushed burden to consumers to pay mobile service fees at high rate. Nevertheless, the EU has recently issued a new policy for allocating spectrum on telecommunications and broadcasting. According to the policy, the auction processes must be transparent and effective. The auction design must not aim only to raise the bid price too high. A recent spectrum auction in the Czech Republic was suspended and cancelled abruptly after the bidders started the bidding too high."

"3G auctions have been held in Belgium since 2001. Four 3G licenses were offered. However, there were only three bidders. One bidder that got the 3G license was a big company that gave the price slightly higher than the reserve price while the other two bidders won the license at the reserve price. During that time, BIPT kept trying to convince and find the fourth entrepreneur but was unsuccessful. Then in 2011, a new entrepreneur came along interested in getting the 3G spectrum. BIPT then held a 3G auction to find entrepreneurs wishing to acquire another 3G license. Only one bidder participated in the auction. That new entrepreneur won the auction and got the license at the reserve price. BIPT felt so satisfied with the auction result because the 3G spectrum was finally allocated and did not remain unused. Furthermore, BIPT, IRG and ETNO did not support N-1 method. Dr. Pataki of ETNO viewed that regulators need to increase number of licensees but should not reduce the number of spectrum licenses since such attempt will intervene  market mechanisms. Rather, Dr. Pataki said that he supports the N+1 auction method. He also said that high auction prices will negatively affect consumers. He encouraged the NBTC to provide correct understanding on spectrum auction to the Thai public".

"Meanwhile, DG Connect provided necessary and useful information about telecommunications regulation in the EU. EU Directives formulate telecommunication regulations and every country must sets rules and regulations in line with them. So far, every country has shown good cooperation.  For spectrum auctions, every member country has right to allocate spectrums through auctions or beauty contests. However, the EU has defined the policy for spectrum allocation and keeps an eye on the auction process to prevent any design of spectrum auction that may lead too high auction price."

"This EU mission was very successful since we were given opportunity to clarify EU executives misunderstandings regarding the NBTC Notification on Stipulation of Prohibitions on Actions in the Nature of Foreign Dominances B.E. 2555.  We also had chance to acknowledge current policies and best practices of the EU in allocating and auctioning spectrum which are consistent with the outcome of the ITU's evaluation study of Thailand's 3G spectrum auction.  This fact confirms that the NBTC's 3G auction process and its results are on the right direction and meet international standards.  Such information will be very useful to serve the NBTC as good guidelines for the next spectrum auction in Thailand.  In addition, we were able to tighten our relations with the EU telecom regulatory agencies.  I was also invited by the EU to participate in the next EU regional meeting and share my view concerning the success of Thailand's recent 3G auction with the EU regulatory bodies." Dr. Suthiphon concluded.