Constantine (Costas) Louropoulos
Served as EETT President from 18/12/2013 to 23/03/2015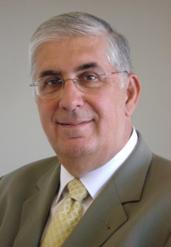 Constantine (Costas) Louropoulos was appointed as President of the Hellenic Telecommunications and Post Commission (EETT) on December 18, 2013. His professional career combines significant experience in international business and technological arena, particularly in financial services (banking and insurance sector and capital markets), but also in other key sectors of the economy.
Two months before assuming the presidency of EETT, Constantine Louropoulos served as President and CEO of OPAP SA, the Greek gaming company with a turnover of 4 billion euros, one of the largest companies in the sector worldwide. His term lasted from August 2012 to October 2013, when the Greek government transferred 33% of the share capital of OPAP to private investors.
Over the last 15 years, Constantine Louropoulos has acted as a businessman involved in the information technology sector. In 1999, he founded the company E-ON INTEGRATION SA which develops and manages software applications in cloud computing, using Internet technologies and telecommunications infrastructure (broadband, mobile devices, etc.). He disclaimed his shares in the company, to accept the position of EETT President.
He has also worked for 35 years as a consultant in the private and public sector of the economy, planning and implementing business transformation projects for large-scale enterprises and organizations. He has cooperated with large private and public enterprises in Greece and internationally. His main expertise is information technology, business transformation and change management.
He started his career in 1979 as Auditor in Arthur Andersen, but soon he joined the consulting practice, where from his early steps, he was engaged in large companies to perform complex projects. In 1991, at the age of 38, he was nominated Partner in the world-wide organization of Arthur Andersen. Following the separation of Andersen Consulting from Arthur Andersen, he established the Greek office of Andersen Consulting (currently Accenture) of which he was the President and CEO until September 1997. The Greek office grew very quickly to become the largest professional services company in Greece.
In Andersen Consulting he participated in the world-wide management team as a Partner. For five years (1992-1997) he was one of the 42 senior managers' team that managed the company's global affairs. He also acted as a member of several international management and technical committees, namely South Europe Management Committee, Worldwide Telecom Industry Group, Business Process Management, Financial Services Industry Group, etc.
For two years (1998-1999) he joined Ernst & Young as Partner in charge of the consulting services in South East Europe, leading operations in Greece, Cyprus, Romania, Bulgaria, Serbia and Turkey.
In his 35 years of professional life, he has cooperated with almost all Greek banks, most large private companies and several Ministries and organizations of the Greek Government. Equally important is his exposure to international clients of private and public interest in Europe and North America.
He was member of the Board of Directors in Goody's (2003-2008), a company listed in the Athens Stock Exchange, acting as President of the Audit Committee.
He was elected in the Board of Directors and served as Vice President for the Hellenic Management Consulting Association (1997-2000).
Also, for four years he was columnist and analyst in the financial newspaper "Express". Still, he speaks at seminars and public events.
In 2010 he published his first book "Kata Laistrygonon-The Business Manifest against the Economic Crisis" dealing with the recent economic crisis. The book identifies the role of technology in the global spread of the crisis and the potential of technology as a means to overcome the crisis in companies and organizations.
Constantine Louropoulos was born and raised in Athens. He studied business administration and economics in the Athens Economic University. Throughout his career as a consultant he has attended countless professional education schools in information technology, change management and business strategy.
He is married to an economist, Ekaterini Louropoulou, and they have two children, Evaggelia (1988), a Chemistry PhD Candidate in the University of Athens, and Alexander (1991), a Physics graduate student from the same university.